11 Essential Tips for Getting your Offer accepted in 2021 - Step by Step guide by Paul Singh Realtor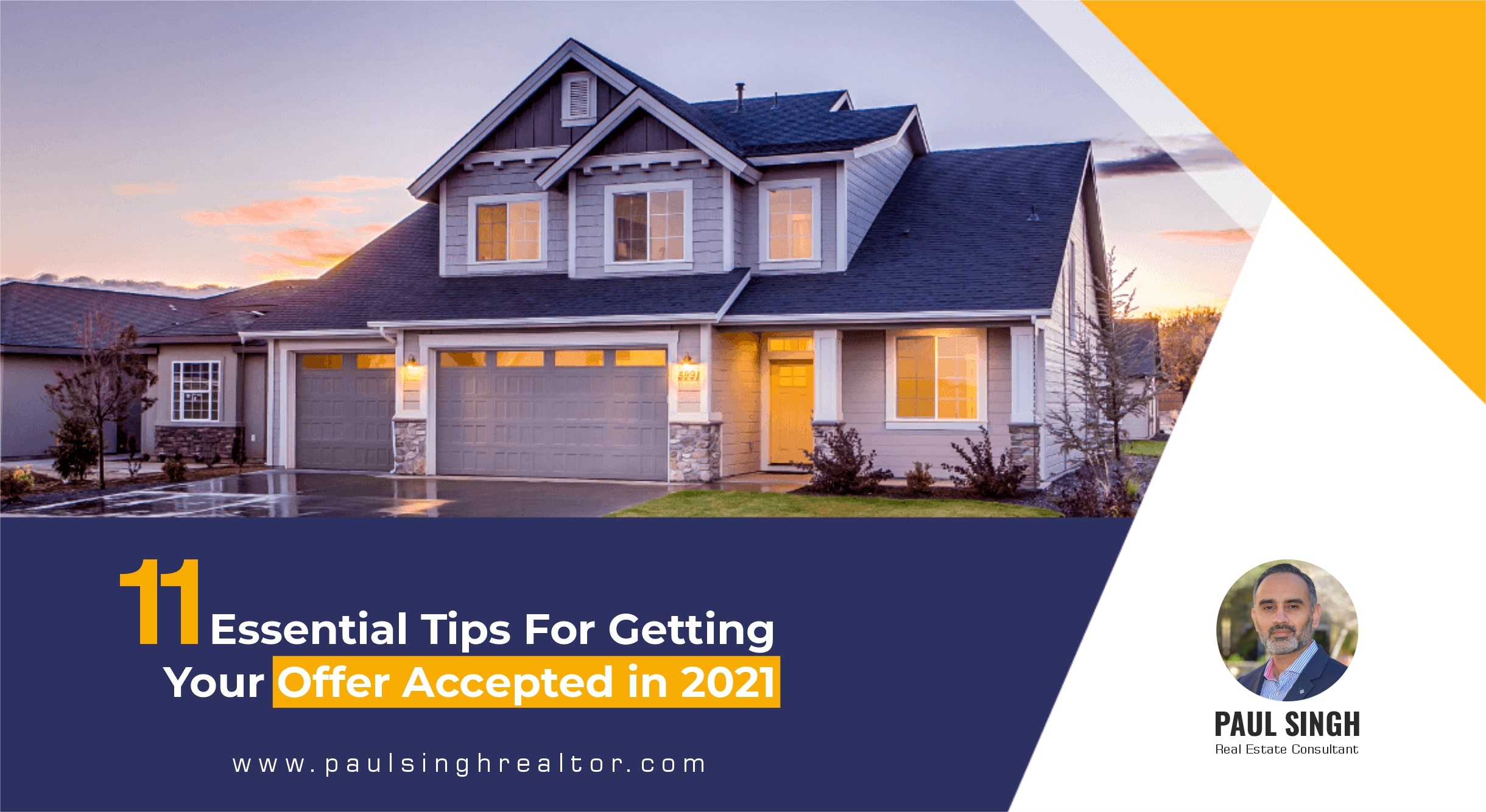 Paul Singh Top Real Estate Agent in Fresno CA will help you find the perfect home of your dreams. Contacting us will simplify all your queries and questions on how to buy a home in the current market. We will also find the perfect home matching all your requirements and criteria.
Through this blog, we guide you about 11 essential tips for buying a home in Fresno in the current market. Let's get started!!
TIP #1 - Make your lender give a call to the listing agent
This first tip for buying a new home makes a difference, calling the listing agent through your lender confides them with confidence that the client is backed by a correctly qualified lender.
TIP #2- Exemplary competitive Offer
We have to admit that we are in a strong seller's market and therefore every home has multiple attractive offers over list price. There another tip lies in making the best competitive offer narrating great terms and conditions with the owner so that the deal can be cracked. You can make your offer the most spirited by discussing it with your realtor. Abiding by this tip Paul Singh Top Real Estate Agent in Fresno CA can assist you with the best.
TIP #3 – Looking for your dream home? Get pre-qualified!!
Yes, you hear that right that you need to put yourself in the best position before looking for any house. Following this tip will help you make an offer for the home of your dreams as soon as you see it as the market works at a very fast pace. I can help you get pre-qualified before buying a new house.
TIP #4 – Provide high earnest money to get a good competitive edge over other buyers!
This tip for buying a new home is essentially important as providing a high earnest money shows the seller that you are committed to the transaction.
TIP #5 - Go for an almost perfect home!
Yes! An awesome tip to crack a great deal that could be affordable as well as perfect. Sometimes going for a fixer-upper can be the best option. These fixer-upper homes can come without granite countertops, but they will surely contain some excellent equity opportunities. Going for an almost perfect but not perfect home will help you face less competition while buying than the remodeled properties at a high premium.
TIP #6 – Offer a Close date with seller lease back
Always go for the flexible terms in your offer!! Terms stand out to be as imperative as your offer and amount hence you need to write them cautiously after discussing with your realtor. Choosing a close date with flexible terms will help your offer stand out from the rest of the competition. Many homes are getting delayed in the current new construction, so the sellers may require an extra 3 months in the current home due to delay.
TIP #7 – Waste no time in viewing the home
Killing time by waiting for the response of small questions from the seller may result in missing some great opportunities of viewing properties of your choice. Going quick may also result in getting an immediate response in this fast trending market.
TIP #8 – Be flexible on your inspection period
All our tips for buying a home are gathered and written through extensive research and experience in the field of real estate. Hence coming to the 8th recommended tip we suggest you adjust the length of your inspection period. Abiding by this valuable tip will help create favorable conditions for the seller and make them feel confident. It also makes them believe that the buyer wants the transaction to run smoothly from the beginning itself.
You should certainly discuss all the advantages and disadvantages of shortening the inspection period with your realtor.
TIP #9 - Hard earnest money
The significance of this tip is that it conveys a message of your capability of meeting all loan requirements and appraisal value. This is an aggressive strategy followed by some experienced realtors and buyers to receive accepted offers. If you follow this tip the seller will receive the earnest money whether you purchase the home or not.
Paul Singh Realtor is available to assist you with the pros and cons of hard earnest money.
TIP #10 Waive your Appraisal Contingency
Waiving your appraisal contingency would help remove a large obstacle for the seller. But make sure you have cash to make up the difference just in case the appraisal comes in lower than expected. Although this option involves risk, it can be a major attraction for the seller. Talk to your Realtor about the pros and cons of removing the appraisal contingency.
TIP #11 Offer to pay the Seller's closing costs
Following this tip gives you a competitive edge over the other competitors in the market. This process involves covering title and escrow fees directly out of your pockets.
These tips should help you get your Offer accepted in this competitive Seller's market. If you have any questions or need clarification on any of these topics, feel free to contact me at hirdeys@gmail.com or (559) 905-5228.
You can also directly message me on my social media platforms.