In today's time, it is such a difficult task to find a perfect home for yourself at a pocket-friendly cost. Yes, it becomes a very tough job to find a home like this by yourself. But, every problem has a solution. A Real Estate Agent, Fresno can fit all your needs and help you to find a perfect home where you will feel comfortable and that house will have all the things installed which makes you eye-pleasing. It is also important to have a peek inside a house before signing a contract with a realtor.
A realtor (real estate agent) will know perfectly about your needs for a specific home and will know your likes and dislikes. Be it wanting a backyard lawn in your home, a swimming pool for summer relaxation, a basement ground for your kids to play games, a fascinating view in front of the house, a safe and better location and surrounding the house, all the needs will be accomplished only by a well-qualified with years of experience realtor. In this blog, you will find out about the benefits of hiring a real estate broker for your new home.
1. Ethical Consideration
By means of ethical consideration, all real estate brokers who are members of the National Association of Realtors abide by the rules of the code of ethics. All the realtors must ensure that all the transactions with clients will be done honestly. A realtor will put your interest ahead while finding the best home for you that meets all your requirements.
2. Pricing Expertise
Many real house agents or realtors set the price the time they see a home for you, and with the great knowledge and years of experience, they can know well what would be the price of other neighbor homes. They set the price of a home according to the location of the home, interior of home, total land of home, facilities installed and meets the clients expectations. A realtor will ensure you meet all the requirements as per you need and set a price according to it. Moreover, a realtor will disclose the pricing data of your neighbor's homes.
3. Requesting Repairs
The work of a realtor is not only providing you a perfect home at the best price, but he also recommends you a home instructor who will tell you about the problems or repairs about the home. Because only an eye-pleasing home is not enough to make you feel comfortable, you need a home which is also structurally strong. Repairing the damages on time will assure you no harm or no more wastage of money on again & again damage repairing. Thus, it is important to request for repairs on certain things that are needed to be repaired on time. However, a realtor also has a good knowledge or sense on where the repairs are required to be done and where not.
4. Finding Available Homes
It is the primary motive of a realtor to provide you a home at the best economical price. So, Top Real Estate Agents in Fresno, CA know about which homes are available for sale by finding them online. As you know, some of you do not want to disclose your house and find a new one. You do not want to have interference from your relatives and friends because sometimes selling a home is somewhere connected to your family problems, health problems or financial issues. But, with the assistance of a realtor, your tension of selling or buying a new home becomes confidential.
5. Tackling the Paperwork
Buying a new home involves so much paperwork. Sometimes, some essential paperwork like written offer, written and signed counter offer and so on, essential documents are ignored which leads to future problems. But, a real estate agent, Fresno can solve this hindrance. All the paperwork is done by the realtor in your presence which ensures you that all the processing work of buying a new home is done legally and accurately.
6. The 'Overall-house' Phenomenon
Sometimes when you find a new home on the internet that illustrates every corner of the home properly and ensures that you know about the home already. There is always a misconception among people that a house and its features which are showing on the internet is only that. It is not true. With the help of a realtor, you can come to know about a home that you want to buy, better. Some rooms or features which were not shown on the internet, you can see them by yourself. Thus, a realtor becomes the best medium between you and the seller.
7. Unemotional Negotiation
A seller and buyer's argument can heat up the situation sometimes when it comes to installing a feature in the house demanded by buyer or pricing negotiation. But, if you hire a real estate agent, this problem can get solved as a realtor will negotiate and directly meet the seller and tell about all the concerns of a buyer to the seller in a manner way. Thus, it is important to represent the face of the person who can deal professionally with the seller instead of yours.
8. Code Expertise
Sometimes you choose a house and want to do some changes there, but you do not know if the surrounding location will allow you to do that or not. A realtor can assist you in finding a perfect location for your perfect home where you can do changes and the surrounding location or neighbor will have no objections.
9. Thorough Record Keeping
As you know Real Estate Agents, Fresno, CA are not lawyers, as they can serve you only the length of time where the deal is supposed to end. However, some of the realtors can keep all your documents for several years. Moreover, it is your duty and you should keep your files with you as sometimes in the future you may need your realtor again. So, keeping files with you lets you contact your realtor easily.
10. Avoiding Closing Problems
When the deal of buying a new home is coming to close, sometimes issues may occur like financial issues or any other that directly affects the deal. But, a real estate broker is well-qualified enough to resolve the issue on time before it gets too late. Thus, the realtor manages his/her task accurately till the close of the deal without giving any stress.
11. Save time
When you directly deal with the seller of the house, sometimes the coordination between you and the seller is not balanced which leads to deal break. But, when a realtor is involved in the deal, he/she becomes an efficient medium between you and the seller of the house. All the formalities will be done by the realtor, and he will handle the deal professionally and save your time for those tasks that take too long a time to proceed.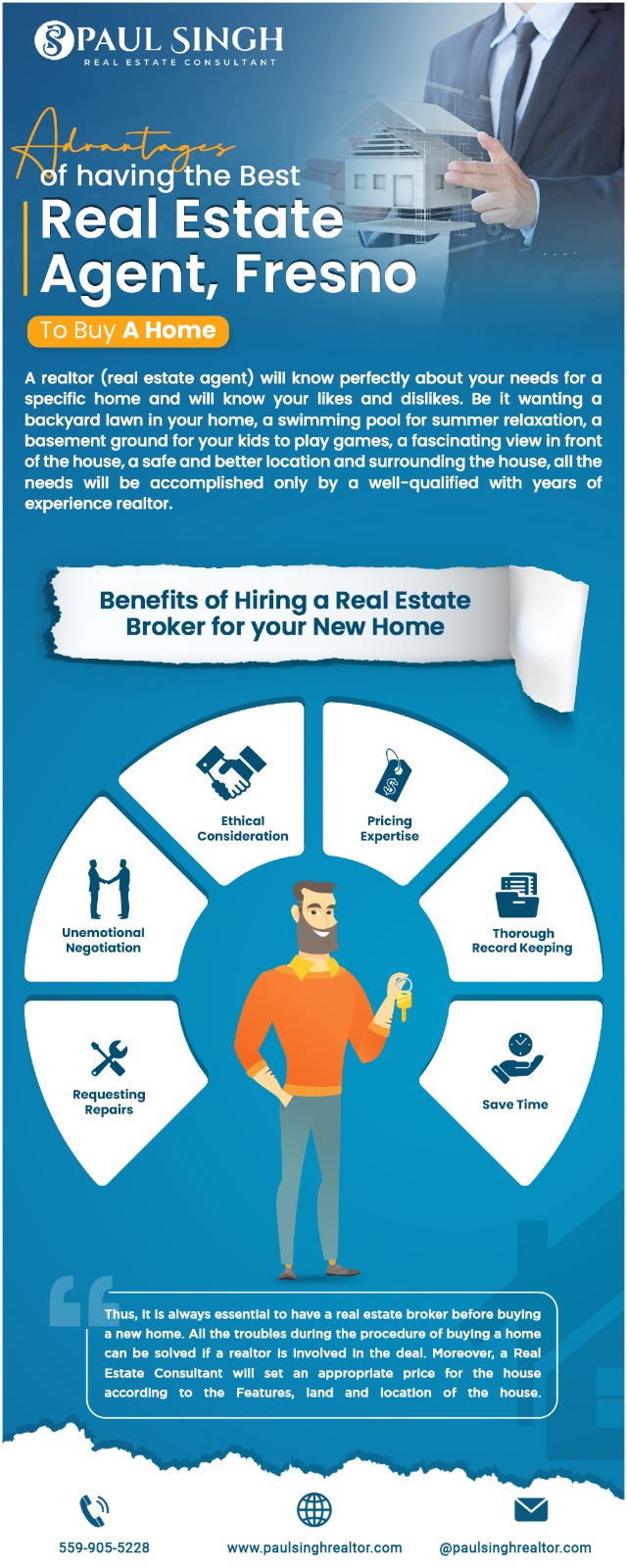 Conclusion
Thus, it is always essential to have a real estate broker before buying a new home. All the troubles during the procedure of buying a home can be solved if a realtor is involved in the deal. Even if you have any trouble in looking for a new home, a realtor will do the job for you by keeping in mind all your needs and requirements and find a perfect home according to it. All the paperwork will be done on time without any hindrance. Moreover, a Real Estate Consultant will set an appropriate price for the house according to the features, land and location of the house.
For any inquiry, you can contact Paul Singh, the best Real Estate Agent, Fresno and find your dream home.